Our Story Featured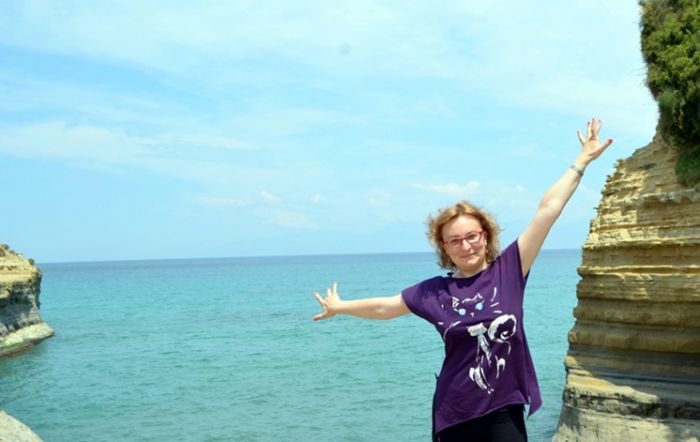 Roxana Barlea
Roxana Barlea is the manager of our project. Here is her story. Our story. Felix Crainicu asked the questions, Roxana answered.
When did you come up with the idea of this project and why?
I had been thinking of the project for more than a year before starting to put it on paper. It represents a combination of my two main preoccupations at this moment: teaching foreign languages & intercultural communication and learning how to dance. It is also a combination between my professional life and one of my hobbies. I believe that these two elements should be in harmony for a balanced life.

Who are the project's partners and how did you find them?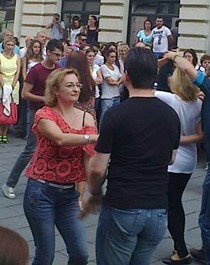 There is, of course, my university, Academia de Studii Economice din Bucuresti, and the school where I take dance lessons, Oportunidad Escuela de Baile. Then there are two other universities, Université de Bruxelles and Universidade de Lisboa, where I have colleagues I know from other projects. They invited in their teams' members who share the same values: open-minded, hard-working and creative individuals who want to evolve personally. As for the fifth partner, Escola Oficial d'Idiomes de Barcelona-Drassanes, I didn't know them before, and we still do not know each other in person, as we found them searching the Internet databases for matching partners. Yet, they have been very open, they bring lots of added value to this partnership and I am sure we will get along very well!
Were you expecting to win the financing or did it all evolve along the way?
We always win, eventually! (big smile) Actually, there were 55 project proposals in the Adult Education Section, Erasmus+ 2015 Call for Projects. Only 10 of them were selected for funding (in addition, there were drastic budget cuts for all of them!). After the call for applications was closed, I saw the list: there were 55 projects in competition, and most of them were very "serious". I mean, they were aiming at creating new jobs, encouraging entrepreneurship, raising awareness about environmental protection, you know, saving the world kind of stuff… First, I panicked. Then I told myself either ours is a very well-written project or the evaluators will realise that social life, through dancing, meeting people from other countries, learning about other cultures… has to be considered a "serious" subject nowadays. I think it was a bit of both, so we got funding! Cultural projects, including the ones about informal education, should be supported more often. You know what they say: "La culture coûte cher? Essayez l'ignorance!" (FR)- "If you think education is expensive, then try ignorance!" (Derek Bok, American Lawyer).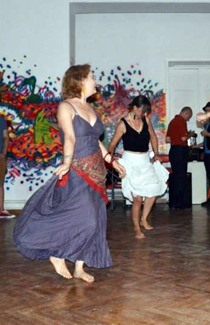 Now that the project has recently been released, how different is what is happening at present from how you imagined it would be?
For the moment (almost) everything is going by the plan! Hopefully, it will work like this until the very end. But one should always expect the unpredictable… That, I believe, is the key to going beyond obstacles. We are a nice, very diverse international team; we decided to welcome the unpredictable and to deal with it together. Of course, there is always place for better, but "Hem nascut per ser reals, no per ser perfectes" (CA) - "We were born to be real, not to be perfect!" (Hannah Jane Carpiso).
Let us imagine the following: at the end of the project, what will happen to those actively involved in it? Will they be better people? Smarter? Richer?
Actually, it depends on each and every individual who takes on this challenge… One thing is for sure: those who will choose to really get involved in the project will be more open-minded, more tolerant, more curious and will surely make more friends! This is a project about social life, among other things. We hope that getting different personalities, from different countries, then working and having fun together (either during the 3 Multiplier Events or within the project management itself) will make us all learn a lot from each other.

What is the main strength of Oportunidance – Dance Your Way to Other Cultures project?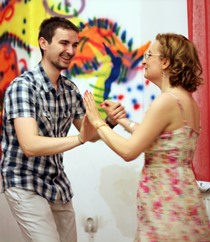 The project has a "hilo rojo" (SP) - red string. Learning languages in order to be able to socialize more across countries, mainly through social dance. But beyond that, its activities are conceived so that people interested could pick something which interests them most in this moment of their lives, be it learning dance movements, flirting in a new language, finding out more about "especialidades gastronómicas de todo o mundo" (PT) - Food specialities around the world... And this is a real strength: the project offers to many people the possibility to choose an aspect which completes his/her life at a certain point!
What about its main weakness?
As everything in this world, it depends on the availability of the partners and on the energy each of us can and wants to put in it. So the most sensitive point will be to motivate staff & participants to give their best. If we understand that that's also the best way to take the most from it, it will be great! Actually, I wouldn't speak about the weakest point, but rather about the most unpredictable. "Dar, cum spuneam, adorăm neprevăzutul!" (RO) - But, as I said, we love the unpredictable!
How do you see the joining of dance, foreign languages, culture and civilization? Aren't they forcibly put together?
At first glance, it may look like an "arranged marriage", yes. But you are right, it was my own vision of things and I was lucky to find so many wonderful people to team with who believed in this marriage and, even more, they brought their own vision in order to make things better, so we hope it will be a happy marriage!
Dance is a sort of language; a language of bodies, of artistic expression, of imagination. Foreign languages are our means of expression when in contact with others. Culture is the language of souls; culture makes us dance through this world as intelligent, always evolving human beings. Socialising is the main binding element; we are social actors; the more we have social skills, the better it is for everyone. So, if in nowadays' society we manage to understand some of each other's language and culture and can dance with each other, then we can believe in living happily ever after…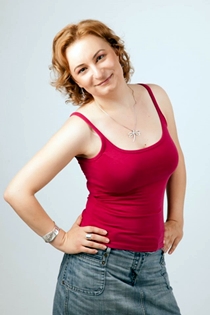 What do you do apart from Oportunidance?
A lot of things! I go out with friends a lot; I love for example the café-théâtre; I consider that independent theatre plays played in unusual spots offer a lot of freedom of expression and a multitude of nuances. I am so glad that Bucharest has a very dynamic cultural life and so many independent show halls! (The only problem is I don't live in Bucharest any more).
I also try to learn how to play the guitar. Yeah, I am a teenager in her forties! My brother once said about me: "Comment va Roxana? Bah, impeccable, elle est très-très jeune, malgré son âge!" (FR) - How's Roxana? Perfect! She's very-very young, despite her age!
And then, of course, there is my job: I teach, I carry research projects, I take the time to listen to my students who come to see me for different reasons.
What would you choose between an aesthetically perfect but "cold" dance and a "hot" one without anything spectacular in it?
I am relatively new in the fascinating world of dance. I have been dancing for 3 years, mostly Latin dances, but also African, oriental, fusion… Until that I was mostly about "no importada nada, solamente bailar" (SP) - Doesn't matter what, just dance!, which is also great! I think everyone should dance, "n'importe où, n'importe quand, n'importe comment!" (FR) - No matter where, no matter when, no matter how!
The "perfect" dance is for professionals. We are dealing here with dance for socialising, dance for people from all professions who want to express themselves through dancing. I was very glad when I found Oportunidad Escuela de baile in Bucharest, as they are teaching more than dance moves, and techniques… They are teaching how to live better selves and how to have a better contact with each other – while having fun together on the count of 1-2-3 / 5-6-7.
As for myself, I would rather go for the perfect feeling when dancing! And the perfect feeling comes from self-confidence (In this respect, I strongly recommend the DaniK London workshop within the Oportunidance project), nice people around and a cosy place.
Thank you, have fun!